When I take my daily walk, I often think about my quilting process. I usually go towards the sea, to look at the horizon from a deck. The reflections on the waves and the colors changing every hour are a source of inspiration.
I've recently attended a course by Irene Roderick named "Coreographing your dance", and I considered to dedicate the title of the quilt I'm working on, to the feelings I have during these roundabouts. So, my title for the current work could be something like "To the sea". But I prefer that my titles be short! So, since my hometown Trieste is at the eastern boundary of Italy, I could call it East. Yes: "East" is short enough.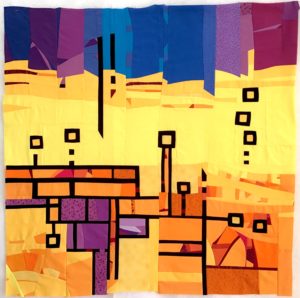 Giovanna and myself have already written some articles about the way we choose our titles; in the next section, Carla @falcolupo describes her approach.
Names, names, names!
"When I start a new project, basic prompt is usually focused on the colors to be used: palette creation, work features. As soon as a composition starts to take shape on the design wall, the question marks pop out. If I don' have already a planned intent, it is the work, who starts to talk to me: it whistles in my mind a concept or a feeling to express.
Choosing a title is very important for my works, especially if they are abstract improvisations: it is a way to express a point of view, to send my thoughts on air, to make statements… or simply to keep a reminder of my feelings of that moment.
My last work is Earthquake, generated by the need to give a purpose to all my scraps from Blue Improv Repetition challenge. Tiny pieces gathered on the design wall: they initially gave me the feeling of a sea, of a sky… Then, I started to see houses, crumbling walls… and the image of an earthquake became frozen on the page. But you can see whatever you wish: let's keep free the effects of improvisation!"
Silvia @silviafic8 replied to our questions on how we feel about our quilts and their names. She wrote us the following story.
Sometimes my quilts have no title.
"When I start a quilt, sometimes I know its title since the beginning.
Fabric color may evoke an object, a landscape, a combination with the shapes.
My quilts don't have always a title: especially improv works, where I go for abstraction, and the result may suggest some emotions.
I don't like to define an interpretation, to necessarily attach a meaning to the colored panel. When I look at a work of art, its capability to emotionally inspire me is more important than knowing the underlying subject.
With my quilts, I feel the same. Emotions are so subjective, that reading background information about the artist and its work process will not influence my emotion, but it will only add on my know-how. I consider this valid also for other forms of art: music can touch my heart, even if I don't know the story of the artist.
A work may have a name, a title, but for me it's not necessary. Well, my quilts are not work of art… When I make a quilt for a game, I like to call it as the game: orangesummerimprov , blueimprovrepetition, and to feel the fun of it.
A viewer may, today, see a landscape in my work, and tomorrow something else, due to a different mood of the day. Why putting a constraint to the visions of a viewer by means of assigning a title? My hope is that my quilt – or at least some of them – raise emotions in the viewer."
Do you have a story about the events linked to your quilts, or a comment about one of the themes addressed in Quilt Improv Studio pages and discussion?
You can write it to us! Send a Direct Message to @quiltimprovstudio, or write a mail to infoATquiltimprov.art! Your message can prompt a conversation, and our pages are aimed to become a place for discussions to be shared!