QIS primary colors
"Primary Improv" is our new improv patchwork game, aimed to let you play with primary colors coupled with black and white.
We asked through an Instagram poll where you usually see such colors, and your answer were as follows. Many of you see it in children toys, in kindergarten imagery, in children books and in Bauhuaus toys (such as the wooden blocks). For many of us, such colors remind of Mondriaan paintings, but also Mirò and Kandinksy use them (among other colors). Several of you mentioned nautical flags and national flags from foreign countries, plus clothing from the 1960s! Obviously, those colors appear as primaries on the color wheel and in the Native Americans medicine wheels. In a circus ring, on a sunny day, primary colors can be on the clothes of a clown… painting part of the rainbow!
To maintain a common line in our works it was decided by the majority of poll respondents that we will use the graphic element of the line during the creation of our quilts. The other game details are described below.
FEATURES
FINISHED SIZE:
minimum 24"x24", maximum: free
MATERIALS:
your preferred fabrics as solids or prints, having only the following colors: red, yellow, blue, black, white
PICTURES
SHOW THE WORK IN PROGRESS WITH PICTURES OF YOUR:
selected fabrics,
piecing,
layout,
quilting,
finished quilt.
How to take photos of your quilt? More details in this page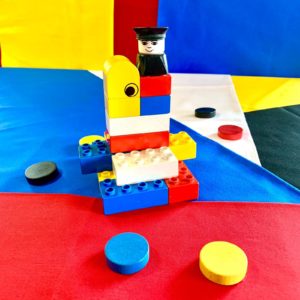 HOW TO PARTICIPATE:
JUST BY SHARING
You are invited to play with us!
Join our game on Instagram, remember to tag us @quiltimprovstudio, when you start, and to use in every post the following hashtags dedicated to the game, to be sure we will see your progress:
Deadline March 31th 2022. General rules and practices for our games are listed in this page .