On the occasion of the launch of our last game, Improv Dualism, we asked with an Instagram poll what improv patchwork means for you. In the replies, many definitions expressed positive feelings we recognized ourselves with. As the word cloud created with your responses shows, the most used word was freedom!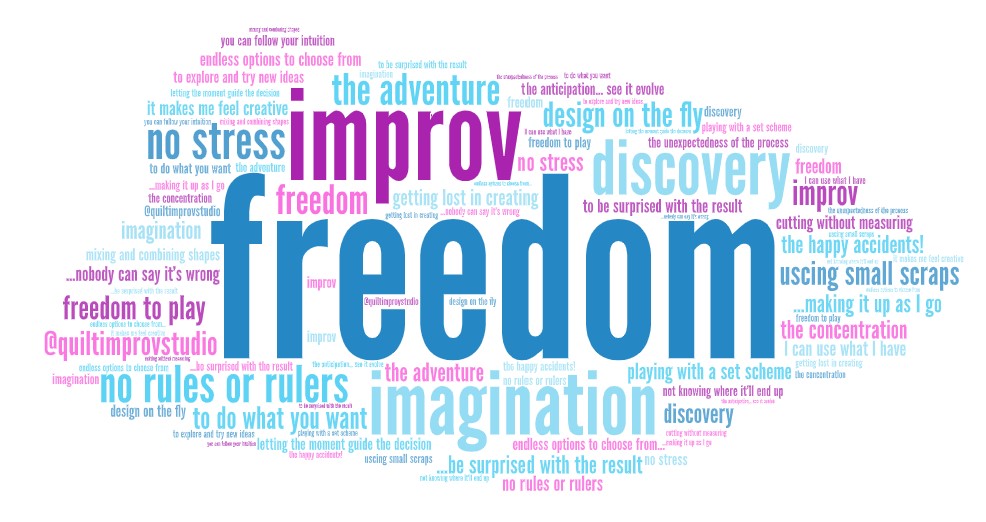 Our views on improv have changed during time, also thanks to the experience shared with you. Our recent thoughts are collected here.
Carla says: "After many years as a traditional quilter I became an improv quilter. This means for me to feel free. I love to start with an idea, to choose colors and then the shapes. I agree with people that say that our works evolve… with our mind. It doesn't care how we go on or what tools we use… improv means that all the possibilities to change are open till the end. It doesn't mean we don't know where we are going. On the contrary, we check our work every now and then, searching for consistency, and we keep ourselves ready to change things (even if they are almost fully done) if we are not satisfied yet. What we care most about is that people understand that improv doesn't mean work made in a hurry or carelessly: it's the opposite! It is a free process full of hard steps. I'm proud to define myself as an Improv quilter."
Giovanna adds: "I believe that the improv, born from the desire for freedom and to get out of the traditional schemes (no rules, no rulers, shapes that are not necessarily precise, etc.) has become, over time, a way to express and experiment with one's personal creativity, and has therefore been divided into several styles which, at the moment, do not have precise definitions. Thus, the improv has become a large container with a thousand variations. What do they have in common? I believe that the fundamental thing for a quilt to be considered improv is the "way" in which it is made. It is a process made up of decisions taken gradually, along a path that takes various directions before reaching the end. An "on the go" quilt construction.
Of secondary importance and entirely personal, for me, are the decisions about which tools to use, whether to work with or without intention, whether to establish limits or rules, whether to follow design principles. What we see in the hashtag #improvquilting are many different types of quilts. Sometimes attributable to styles created by well-known artists in the sector but most often the result of experiments by individual quilters who are creating or trying to find their personal improv style. An interesting style in continuous movement and evolution!
Paola concludes as follows: "Improv goes well beyond simply noticing the presence of wonky shapes. I believe that improv is a distributed design compositional technique, allowing emergence and transformation more than other compositional "ab initio" creative methods. It is not easy to stick to an improvisational experience during the whole process (for example, if one starts to follow intermediate photos up to finalizing execution adherent to such photos). I feel that there are still many ways to talk of improv, so that it's difficult to put it into one word. My preferred practice (as promoted also by @quiltimprovstudio) is to consider improv an opportunity for continuous design practice (each gesture, a mini design act), to learn how the eye responds to experimented effects, for horizontal sharing. Creativity can be harnessed in specific modes, with its own dignity, different from other creative procedures. Jazz music earned distinction for its improvisational moments, ritualized in solo steps rotated among musicians in the band, if not going up to collective improvisation. I hope that our discussion and games keep the improv definition open, alive and kicking!"
You can join the game Improv Dualism at any time, until the deadline for quilt completion of July 2nd. In the meanwhile, you can follow the progress of game participants looking at the hashtag #qisdualism and, to find your reason to try, you can pick your preferred definition of improv among the ones expressed by our game participants:
freedom
imagination
discovery
no rules or rulers
the adventure
design on the fly
to do what you want
…be surprised with the result
playing with a set scheme
letting the moment guide the decision
using small scraps
endless options to choose from
freedom to play
the happy accidents!
to be surprised with the result
…making it up as I go
…nobody can say it's wrong
endless options to choose from…
getting lost in creating
no stress
the unexpectedness of the process
to explore and try new ideas
the anticipation… see it evolve
the concentration
cutting without measuring
mixing and combining shapes
not knowing where it'll end up
it makes me feel creative
I can use what I have
you can follow your intuition