Our first challenge is going to finish in a few days. This is the right time to stop and to think about it, before we start another one.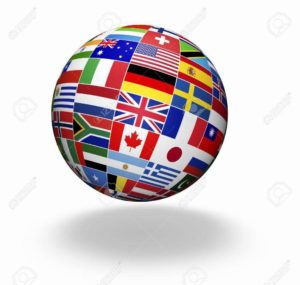 In April we decided to launch a game about color and to post all the works on Instagram, hence the idea of involving anyone who wanted to join us: quilters from every part of the world accepted our invitation to play with us. It was a big pleasant surprise!
Many of them expressed their enthusiasm for this initiative, experienced in a moment of closure. We believe that people appreciated the "social" aspect and the chance to focus their mind on a personal project to carry on. We are really happy about this!
Looking more at the practical side, we decided to propose some questions to quilters who have already finished their work within September 15th to pursue our community sharing intent. Questions were about what they liked about this game, what they think to have learnt and how they have overcome the difficulties while working. We have collected the replies, you can read them below.
This occasion prompted some of the participants to make their first try with improv.
Adriana Pereira @drikartesatelie from Brazil told us how it was her start: "I went in search of my orange hand dyed fabrics and other commercial fabrics, to construct the improvisation palette. After that, I spent about 15 days just looking at those beautiful fabrics and thinking: I'll spoil fabrics because nothing will come out!!! But I thought, if I don't start, I won't know I can ever do it: I was really scared! I confess that the first cut and seams are there in my patchwork box, but then I found myself full of so many ideas and small blocks done, that it was difficult to choose what to use in the challenge. When I started to put blocks on the wall, choosing the position and taking pictures, there were many photos: for mathematicians, an almost infinite progression!!!! In August 2020 I finished my orange summer challenge. Wonderful and enriching experience with modern and improv quilting."
Marta Vázquez Urbez @vazquezurbez, Spanish from Oman, said: "this has been an incredible opportunity to try something new. I'm completely sure that I'm going to use this technique in future works."
Bagarus Magdi @bagarusmag from Hungary replied: "It felt good to play together, I enjoyed the unrestricted freedom of improv quilting, learning from the group. I painted materials, I planned what theme I would choose for the colors, I watched the work of the quilters of different nations and I made my first improv quilt."
We created on-line improv games as a positive reaction to the mandatory distancing period, and we're glad to hear that this approach resonated also with the participants' minds!
María Paz Avalos @sakura.quilting from Chile said: "In my case, most of the time, patchwork and quilting are very lonely activities. But in occasions like this challenge, I felt part of a group. I needed this feeling because of the world situation; the quarantine and other restrictions have imposed a severe distance, but our art has made us stay close. I think that the quilters that participated in the challenge were all motivated and felt very welcome. The community was warm and positive."
According to Brigitte Rossetti @patchbri from Switzerland, "it was a beautiful experience to do something together with people you don't know. I like challenges. It was also a good way to spend time during this pandemic!"
The international and social aspect of the experience popped out from the comments of many quilters.
Melanie Rudy @melanie_rudy_art from Canada said: "It was amazing to connect with all the wonderful participants from all over the world. I joined the group thinking it was a local organization from Canada and it originated from Italy. Such a surprise! This experience had to do with making lovely friendships. The participants were so talented and interested in each other's work."
For Carolyn McKibbin @quiltygardener from the USA, "it just seemed like a fun, casual group of quilters with open minds. Willing to be vulnerable, to accept feedback and to offer constructive feedback. All the quilters had a passion for improv and such different personal styles. I liked the step-by-step progress photos starting at the fabric pull. This way I could really see how each quilter honed an idea and made adjustments. It was like taking an improv quilting class! The small quilt size meant it was something I could complete in a week or two without a major long-term commitment. I also love the color orange, as well as Italian people in general."
Chiara Cingano @therollingcat from Italy said: "I usually don't take part in Challenges or Quilt Alongs or that kind of thing, mostly because of time constraints and also because I like to make my own choices. This time it was different: the rules were few and clear and this meant that we had in fact A LOT of freedom!"
Everybody used the same colors, and still, @vazquezurbez noted that "even if the palette was only orange, the final works were so different!!! The best part has been seeing how other people work and create their quilts. This experience has been very useful to meet other quilters, and in particular to share it with my mother Maribel @mariurbezg, who prepared these comments with me, since she joined the challenge too, from Spain, despite the distance between the two of us!"
The replies of the participants concerning their efforts, provide tips that can be useful for all of us:
@melanie_rudy_art suggested, in case of difficulties, to "just keep trying. Use a good iron. Use the starch called Flatter when things seem off. Take a break for a day or two and on second look it isn't usually a problem. Remember that there will be another layer of quilting to add to the canvas. Enjoy the process!"
Andrea @morphea80 from Germany made a notice on constraints: "I particularly enjoyed the opportunity to work at my own pace. I also liked the fact that there were only a few specifications such as color theme and size. There were no difficulties during improvisation, because I understand improvisation to be a playground without any rules besides those I make up myself. This way I'm free to go wherever even the difficulties will carry me."
@patchbri feels that "it's not difficult, when you add one piece after the other. If the result seems too odd, you can still correct it!"
Enza Pizzolotto @pizzolottoenza from Italy uses the following strategy to find adjustments: "When I encounter some difficulties, or when I feel that I don't like the work done, I stop and I take a break doing something different. Sometimes I wake up in the night, and I return to my work: then, I look for something to add or to subtract from it".
Why not asking for a different point of view? @sakura.quilting wrote: "My husband is an engineer but has a modern artistic vision that I share. Sometimes I ask for his point of view regarding a project. Often his suggestions are part of the solution I needed."
@marialuisama takes a break from her work when she doesn't know how to continue: she takes a picture of the quilt and looks at it while having a coffee. Then, she comes back to work, now equipped with the "coffee suggestions!"
When @barthelregina finds some difficulties she "tries to find another way to deal with it. The good thing about improvisation is: nobody knows what I wanted to do and what I decided to change".
Finally they shared with us what they've learnt:
@vazquezurbez told us: "I'm not sure if I can share a lesson from this challenge, but as a beginner in the process of improvising, sometimes I overthink about what I'm doing… next time I will try to think less and to cut more. Be free!"
@therollingcat described the following experience: "I had to be very disciplined: I learnt that it was vital to iron each and every seam, especially the very narrow ones. I quite like the result. It's different from anything I have done so far. It's right there on the wall in front of my computer. So, when I look up, I see it and I go back to a strange Summer when I took up a challenge… and I survived to tell the tale!"
@pizzolottoenza underlined that "you always learn something new, when you look at the work of others, either if you like them or not."
Last words, from @quiltygardener: "It's okay to be vulnerable. To not be really sure if you like your work, but share it publicly anyway. Have faith, stick to your vision, and carry through with it, but be open to making improvised adjustments along the way."
Thanks to the feedback from participants, we got confirmation that a common passion (in our case, improv quilting) facilitates development of ideas, and connects even with language differences and distanced conditions.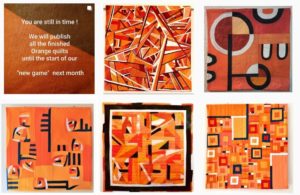 The pictures of this page represent a small preview of all works done. We invite you to appreciate the gallery of all Orange Summer Challenge quilts at the following link: @quiltimprovstudio, where you will find complete info and other comments from the authors.
Additional Orange quilts from participants that still need to complete their work, will continue to be published in @quiltimprovstudio gallery, until the start of a new game (in preparation for the next month). Because, as @therollingcat told us: "Ladies, I'm ready for the next challenge!!!"
Thank you for joining us, adventurous quilters for adventurous projects!