The theme of repetition reminded me of a neat quilt. With variations in color and block sizes that help give liveliness to a static pattern. What can happen in the improv patchwork since there are no precise measurements or perfect cuts to use?
Deformation, similitude takes over, but not equality (which is unlikely to be done freehand). Color repetition can help, but if color is not used systematically in the various blocks what will be the result? These are the first considerations and questions I asked myself before starting the Blue Improv repetition game. I decided that I would try to make an "improv" quilt without intention, helping me with an additional parameter ( in addition to those given by color and shape) namely: time limit, trying to work quickly, acting on instinct without a predefined initial idea. This is something unusual for me as I usually make decisions step by step and take a lot of time especially when defining the composition on the design wall. But since it's a game, let's play and experiment.
I then chose the palette and the basic shape, the rectangle. In short succession I cut some strips, sewn, assembled, cut out and in a short time I finished my top. Only there I stopped to look at it, to see the result in its entirety. The final step was to choose a title. (Paola told us her adventures with titles in an article in this blog.)
Why give a title? To identify him? To give meaning? Both I would say. So when you have a clear idea to convey, it's usually a pretty easy job. But in this specific case, when you start without initial ideas, how can you choose a title? When you look at an image, instinctively, the brain tries to recognize a "something", a known form, or that in some way can be associated with a definable thing. The first thing that came to mind was a nice Scottish tartan fabric so "Improv tartan" seemed to be a fitting title. But I was not satisfied with the first impression and I also wanted to ask my husband and my children. The question was: what is it? What does it bring to your mind? I felt a bit like the Little Prince's aviator when as a child he showed the drawing of the boa that had eaten the elephant and adults mistake it for a hat. The answers were: a hashtag, a video game, a cage. Interesting I would say! Everyone has elaborated the image in his own way, based on knowledge, experience, preferences. Perception, psychology, neurology blend together and transmit a different result for each of us, prompted by something that was born by chance and does not actually have a precise meaning. I find it fascinating! Who knows what answers I would have by asking more people? So, in addition to the fact that I stumbled upon a topic to investigate, neuroscience, I found the title for my quilt: "Perceptions"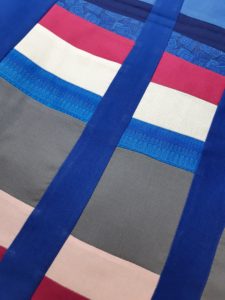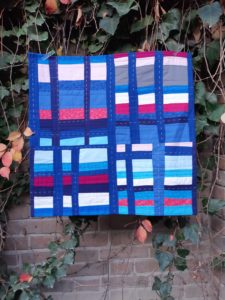 I could have used the famous: "Untitled", but I don't like it, it leaves a void and creates a kind of detachment between the author and the viewer even if it can always be a way of saying: "you choose, it's what you think!" Happy sewing to you!