Let me introduce myself: my name is Carla Maria Beretta, I've been a high school teacher of Maths for 41 years. I loved much my profession, but, to relax between the days spent with teenagers, I pursued my passions as mental escapes and pausing time: reading (which I did a lot since I was a child) and, since the nineties, patchwork and quilting (yes: I started a lot of time ago!).
My quilting path has been oriented for years towards traditional patchwork. I learnt several techniques. I developed my taste for warm and saturated hues. I love playing with colors… and the possibility to choose fabrics of different colors or prints, to mix them in an unique blend: this is what gives me emotions, a feeling that repeats each time I start a new project! Patchwork relieved my frantic life as a peaceful oasis.
After years spent sewing traditional patchwork, I went closer to Modern thanks to the game We Love Tula Pink promoted on Facebook in January 2014… and from that day, my curiosity for Modern increased and I searched for all references about it. I deepened my knowledge by reading, trying, sewing, until I found some information on improv patchwork… and I became fond of it.
I love exploring possibilities prompted by a rough idea, and to translate it in a piece made with my hands, done without following any rule, if not the one of finding harmony for the eyes, to make it meaningful, and moreover to create a unique piece: even the maker could not repeat his improv work in identical way, even if he tried. Each improv piece is a definition of some moments in our life, it reflects the feelings of that period, it expresses our deep thoughts and the words we would like to tell. An improv patchwork piece is an adventure for the search of ourselves… it charges us with energy in such a way that no other technique could reach.
Today I mix improv sewing with works for my family. I have four nephews and I am an expert of baby quilts, soft fabric books and quilts for my daughters and their small kids… but, among one task and another, whenever I can, I play with my fabric, and I sew, I cut, I try, I try again, I dream, until I can tell myself: "yes, this is the right one".
I have fun in experimenting the creation of shapes with solid fabrics. Such as in this recent quilt I've just completed: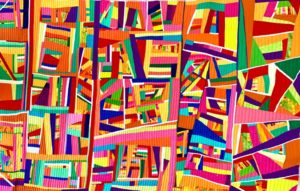 And in this work of mine which was part of quilt shows in Rossano Calabro and Bomarzo in Italy: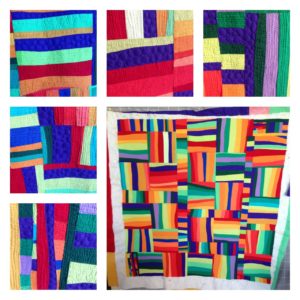 During the last months, I deepened the acquaintance with quilting friends Paola and Giovanna, with whom I share the love for improv. In the midst of our discussions, it popped up the idea for the Orange Summer Challenge and… as for each true improv, the starting point is the clearer part.
Which is our destination? I don't know: we initiate our path and, along the way, the arrival point will become clearer!