Some time ago, my mother visited my home, strolled around the corridor, checked all the rooms, looked at my wall panels, and concluded: "You make too many blue quilts!".
One of my early quilts was made using almost only blue. I pieced some striped blocks, I tried their position on the table, right near the solid fabric remainder. It looked so nice that I decided to embed that solid as negative space. I allowed myself to piece blue lines on light blue background, in spite of their similarity. The resulting quilt had very mild contrast: pieces seemed not separated objects, but rather ripples within the same object. That Kona shade was named "pool". Quilt title became "Water", and free motion quilting populated the waves with diving creatures.
Blue color is often in my gaze.
I live in a town facing the sea.
I love exploring river courses with my bike.
I noted that there are recurrent water related subjects in my quilt titles: "Lagoon", "Seaside", "Fountain", "Nautilus", "Pond", "Boat race", "Ford", "Dam".
I'm not the only one who feels immersed inside blue subjects. Also my son, when observing this quilt of mine full of deep blue, decided to name it "Sails". It's incredible how a slight curvature is capable of transforming a triangle piece into a moving vessel.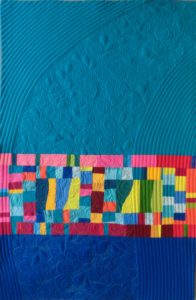 So, combination of a certain shape and a certain colour is enough to become evocative? I shall be aware of this, before I pick the shape to be used in our next improv game! In a past quilt of mine, where I cut wavy pieces while using just a spark of blue, this combo was enough for me to choose its title as "Tide".
Today I collected all the blue fabric in my stash, and I found some double pieces. When I visit my favorite quilt shop, I often end up buying their blue solids again and again. I can be sure it will be used someday.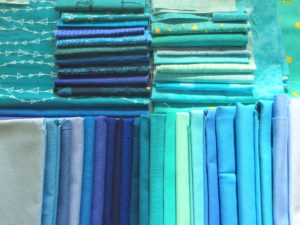 I must admit that, before taking this picture of my fabric, I cleared off the doubles. Among this pack, I will select my favorite shades. We are all busy with preparations: Carla has retrieved her blue fat quarters coming from New Zealand; Giovanna is checking that, among us, we choose different shapes; I'm adding contrasting colors to the blue field that fills my sewing desk. And you? How do you select your starting material for the #blueimprovrepetition game?